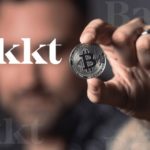 Today, we will be taking a look at the Bakkt futures platform and analyze what impact it could have on the crypto market in 2020.
What Is Bakkt?
Bakkt is an open platform that aims to offer a diversified range of cryptocurrency services, including trading and warehousing.
Bakkt was founded by the same company that created the New York Stock Exchange and entered the market with a strong list of support from big companies, such as BCG, Microsoft, and Starbucks. Other top partners from the crypto industry include Pantera Capital, Fortress Investment Group, Eagle Seven, Galaxy Digital, Protocol Ventures, Susquehanna International Group, and Horizons Ventures.
Intercontinental Exchange, Bakkt's parent company, announced in August 2018, that they have plans of using Microsoft's cloud service, Azure, to "create an open and regulated, global ecosystem for digital assets." The ICE operates 12 regulated exchanges and marketplaces, including the ICE exchanges in the US and Canada, the Liffe futures exchanges in Europe, as well as the New…
Click to continue reading on its source location…
Source: https://thebitcoinnews.com/what-is-bakkt-importance-and-market-impact-in-2020/