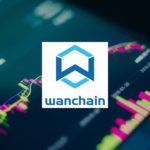 In our Wanchain price prediction for January 2020, we will be looking at some of the past price trends and market opinions.
Wanchain Overview
Wanchain was launched by Wanglu Tech, a Chinese company founded by Jack Lu, who also co-founded Factom. The Wanchain blockchain was forked from the Ethereum code.
Wanchain was designed to be a cross-chain blockchain infrastructure that would enable asset transfers as well as dApp and smart contract creation and functionality for financial applications.
The native coin of the Wanchain environment is the WAN coin. The project's mainnet went live in January 2018, and in July 2018, the Wanchain 2.0 version was released.
Wanchain Price Prediction: Analysis
WAN started trading in December at a price of $0,208133, continuing the downward trend that began in November. The coin continued to lose its value throughout the day and closed at $0,192872.
Unfortunately, the highest value of December so far is still the opening price. Wanchain has continued losing value over the past weeks. From December 2nd…
Click to continue reading on its source location…
Source: https://thebitcoinnews.com/wanchain-price-prediction-and-analysis-in-january-2020/