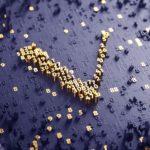 In today's VeChain price prediction, we will be looking at some of the past price trends, project developments, and market opinions, in order to speculate what price VET might reach in January 2020.
VeChain Overview
VeChain is a blockchain project created to improve the supply chain management processes by using distributed ledger technology (DLT) to determine the authenticity and quality of products in commerce.
VET is currently ranked as the 30th crypto according to a market cap of $331,555,100 , with $103,565,370 worth of VET being traded in the last 24 hours. There are 55.454.734.800 VET coins in circulation out of 86.712.634.466 VET.
VeChain Price Prediction: Analysis
VeChain started January at $0,005241, continuing the bearish movement started in December last year.
The coin has returned since January 4th, as VET managed to reach the new resistance level of $0,0056, after several days of testing $0.0054. It closed the day at $0,005673, and the next day it continued its bullish momentum, opening at $0,005667, and also testing…
Click to continue reading on its source location…
Source: https://thebitcoinnews.com/vechain-price-prediction-and-analysis-in-january-2020/