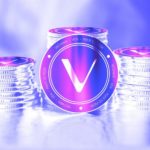 In today's VeChain price prediction, we will be taking into account past price trends, project achievements, and market sentiments to project what price VET might reach in December 2019.
VeChain Overview
The concept of VeChain first came about in 2015, developed by Sunny Lu and DJ Qian, but officially launched in 2018. The project's team operates from headquarters based in big cities all over the world, including Paris, Singapore, and Shanghai.
VeChain is a blockchain developed for use in the distributed business ecosystem with the aim of enhancing the supply chain management processes. In February 2018, VeChain was rebranded as VeChain Thor, as the project transitioned from the Ethereum based VEN token to VeChainThor's native VET token.
The tamper-proof nature of distributed ledger technology (DLT) enables VeChain retailers and consumers to find out if their product is authentic and determine their quality as well. VET makes use of RFID and sensors to send real-time information to lawful users, such as the manufacturer or…
Click to continue reading on its source location…
Source: https://thebitcoinnews.com/vechain-price-prediction-and-analysis-in-december-2019/