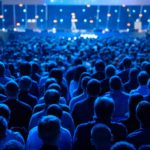 In the first month of 2020, it has been announced that several cryptocurrency events will take place in various regions of the world.
The Digital Money Forum
Event date: 07 – 10 January 2020
Event location: Las Vegas, USA
The Digital Money Forum is a three-day conference and reception which will welcome up to 1000 delegates to discuss how various forms of digital money, including cryptos, will shape the financial space.
This conference will be presenting some of the emergent products in fintech, crypto, blockchain, and ICO communities.
The Genesis Block 2020
Event date: 9- 10 January 2020
Event location: Bengaluru, India
The Genesis Block is a cryptocurrency event that celebrates the creation of Bitcoin, and by extension, the birth of blockchain technology, as the first Bitcoin block was mined on January 9th.
Topics that will be tacked at the conference include Bitcoin's future direction, adoption of Bitcoin scaling options, and the development of next-gen dapps and smart contracts on Lightning Network.
Other subjects will…
Click to continue reading on its source location…
Source: https://thebitcoinnews.com/top-cryptocurrency-events-you-should-not-miss-in-january-2020/