OKEx is currently one of the biggest digital assets exchange and trading platforms that has achieved significant progress since its inception. The platform is known for its constant innovation, characterized by the introduction of new features for users at a regular frequency. In this post, OKEx gives a brief overview of their company's journey in recent days and the ecosystem they are creating.
Highlights
OKB is now on the stage.
OKB, OKEx's global utility token, got into more connection with other major tokens.
This might be combined with four new partnerships, which are expanding OKB's utility in their own ecosystems.
ETH's dominance caught up.
BTC brought back its connectedness to the overall market, slightly higher than ETH, which kept the top seat for more than three months.
This means not only the market cap, but also directional movements in overall crypto are ALL on BTC.
Intuitive futures product debuted in the market.
Quoted and Settled in USDT, headache on hedging margin and collateral is gone.
Volatility and Correlation are not fully integrated yet, but with the fast growth of trading volume and simplicity of product structure, it's worth to keep checking its market behaviors.
Other major tokens will be fully launched soon, thus a comparison between the existing market and new USDT margined futures seems interesting. We will see in the following month.
I. Correlation of OKEx Major Tokens
Overall relationships with each other became positive.


OKB shows notable relationship changes to other major tokens. Regardless of price fluctuation during November, we would see this as regime change in the OKB ecosystem, a higher level of integration to whole crypto markets.
From the previous check, ETH's dominance on connectedness was higher than BTC, but for Nov., BTC's connectedness to other tokens is (very) slightly higher than ETH. As mentioned at the start of this paragraph, both token's connectedness to other tokens increased.
II. Microscope on Correlations



XRP showed growth in relation to other major tokens.

TRX and ETC got more connected to the overall market, and the continuous phenomenon of XRP from the previous week.


In the last week of November, there was a change. XRP changes its direction of integration to the overall market. Even though become slightly negative, with the trend of the last two weeks, it's notable.
OKB is shifting its price and return movements closer to other major tokens. Even though there were price ups and downs throughout this month, the gradual integration of price movements to others pops with the news of four new partnerships for the OKB ecosystem.
Along with YTD vs Nov comparison, this quantity change is material to trading.
III. One step further with a new product: OKEx USDT margined future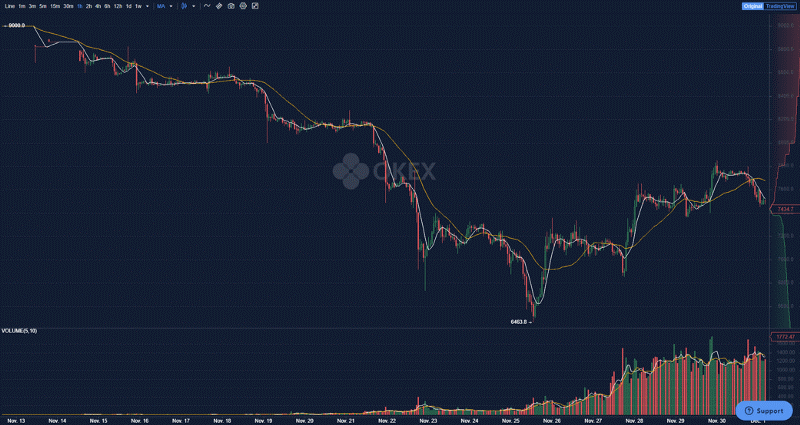 After conducting simulation and beta testing, BTC futures contracts that are margined with the Tether launched successfully on Nov 14th. Started with less than 1% of original BTC futures volume (coin margined) on day one, now shows more than half of daily volume to its brother, and still growing and getting attention from the market participants.
Here we put some figures for information and will integrate this into monthly correlation analysis, with other USDT margined futures.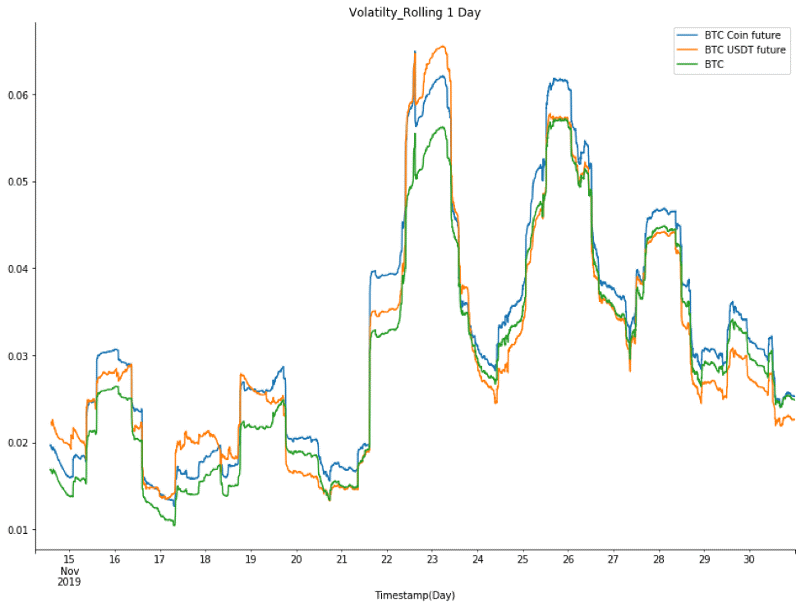 As shown above, volatilities are moving almost together, however, the relativeness and crossing the other requires our attention.
Index methodology and calculation rules are different, please check here.
This new "Linear contract" requires no further hedge on the margin risk, collateral management.
Easier to calculate P&L and simpler to manage books.

For the last 2 weeks, after its introduction to the market, BTCUSDT(Quarterly) futures have shown relatively less correlation to its underlying movements. We would like to see the change in this number and other components in the next month.
Disclaimer: This material should not be taken as the basis for making investment decisions, nor be construed as a recommendation to engage in investment transactions. Trading digital assets involves significant risk and can result in the loss of your invested capital. You should ensure that you fully understand the risk involved and take into consideration your level of experience, investment objectives and seek independent financial advice if necessary.
Note: This article first appeared on OKEx blog 


Image by TeroVesalainen from Pixabay
The post OKEx Research: Ecosystem, and Innovative Products appeared first on NewsBTC.