From the Rarible blog.
We've partnered with FOX Entertainment's Blockchain arm to launch an NFT marketplace for Krapopolis, a new show from Dan Harmon, Co-Creator of Rick and Morty.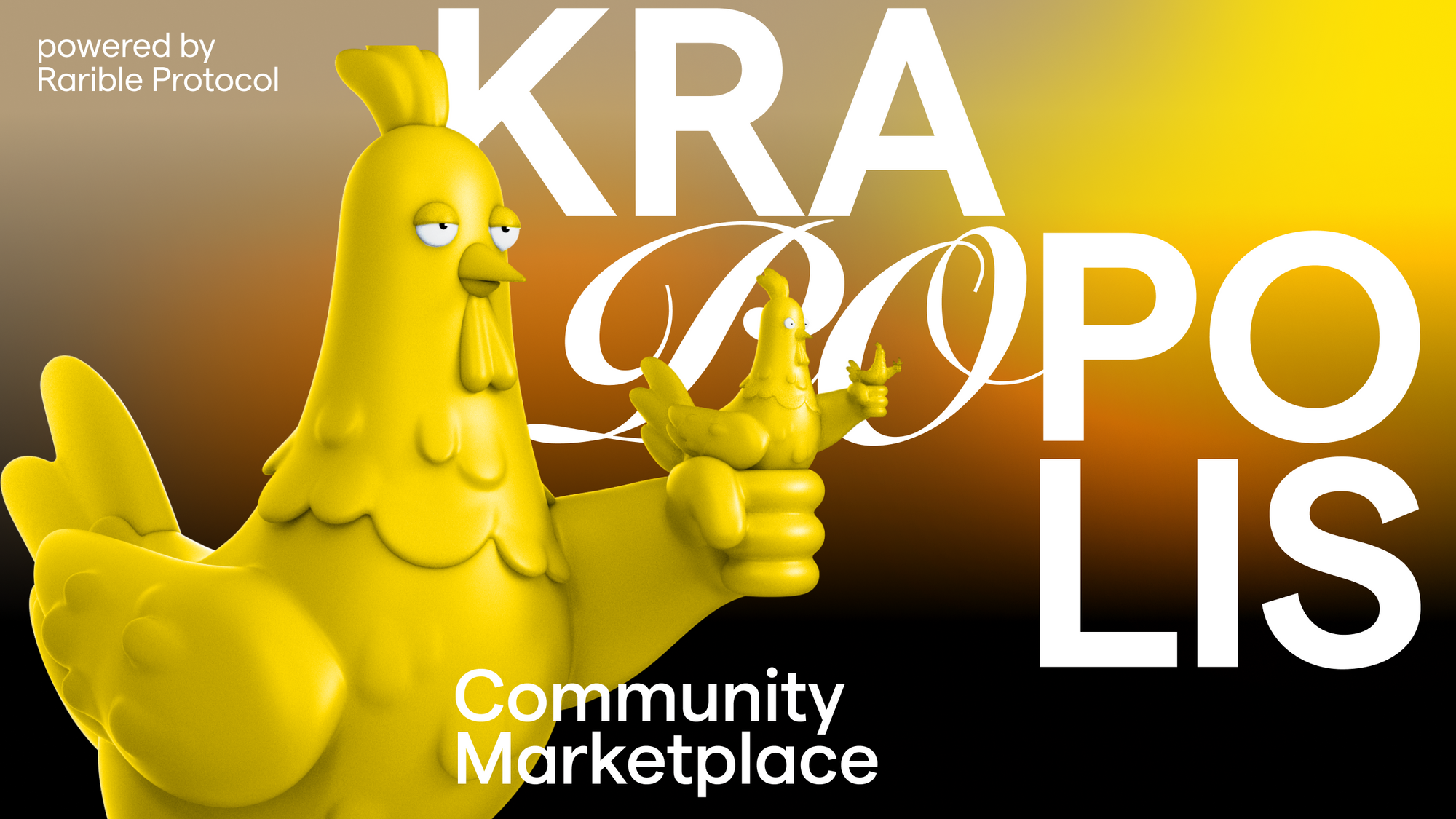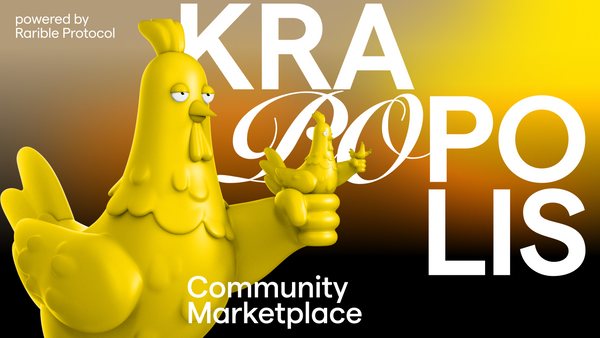 If you're one of the millions of people who love Rick & Morty from co-creator Dan Harmon and also love NFTs – now is your chance to join a new exclusive community and get a say in how the first blockchain animated network television series develops.
This week, we're excited to announce we've partnered with FOX Entertainment's Blockchain Creative Labs to launch an NFT marketplace for Krapopolis, a new show from Dan Harmon. This Krap is cool!
What is Krapopolis?
So what Krapopolis is about? The show's website gives us the gist, while also referencing the role of NFTs in it:  


"Krapopolis is an animated comedy set in mythical ancient Greece centered on a flawed family of humans, gods and monsters that tries to run one of the world's first cities without killing each other. As someone trying to build one of the first cities from scratch, King Tyrannis has it harder than most. You can be king without having to take a bunch of meetings and the constant threat of being poisoned, with KRAPOPOLIS NFTs."
Krapopolis is credited to be the first animated network television series curated on the blockchain. This means ahead of the show's preview on November 27, 2022 and debut in 2023 on FOX, NFT holders will get exclusive access to show voting, content, merch, meet and greets, a private Discord server and more.
Want a sneak peek? Check it out here:

Krap Chickens — your NFT key to Krapopolis
The key to unlock it all? The inaugural Krapopolis NFT offering, Krap Chickens. Each NFT is a uniquely generated piece of art, produced and illustrated by the same people who created the show.
Now to the utility part. As the show unfolds, you'll see elements of your NFT on the screen and you'll also get to use it as your ticket to access ongoing experiences and perks, exclusive to collectors of Krap Chickens. But there are only 10,420 mints. Why? Because that's about how many seconds it would take a chicken to run a marathon (major alpha alert).
Also, a little birdie told us these chickens lay ERC-20 eggs and there is a leaderboard component to all this.
Get your Krap Chicken today!
Don't worry if you don't want to run to the primary mint. Like any good ancient city, Krapopolis needs its own marketplace, which is now live via Rarible Protocol.
You can get your very own Krap Chicken here.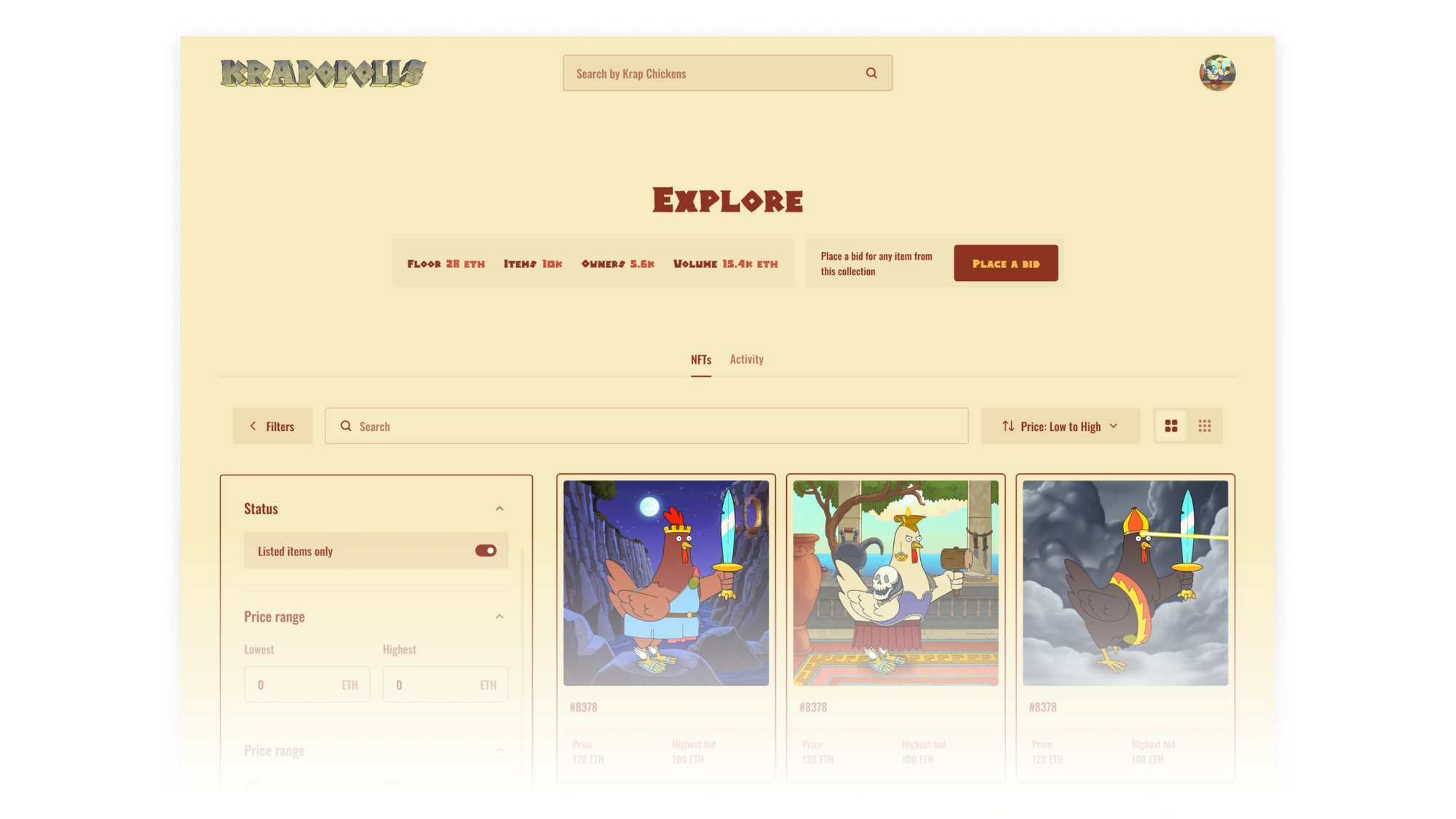 And who knows, maybe you'll see your NFT on Dan Harmon's new show in 2023!
The article above came directly from the Rarible blog, found on https://rarible.com/blog/