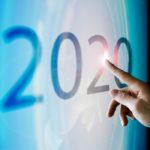 2019 was a year full of surprises and expectations for blockchain and crypto projects. New partnerships have been established, new cryptocurrency products launched, and Bitcoin and Ethereum managed to make it out alive of the bear market, as well as many blockchain developments were made.
Today, we shall explore some of the cryptocurrency predictions for 2020 and look into the events and price evolutions we should expect this year.
Bitcoin (BTC) Price Prediction 2020
Bitcoin will experience a big event in May 2020, as the coin will go through its third block reward halving. Traders and analysists believe that Bitcoin will go past the all-time high of $20,000 in early 2020, due to a rally spurred by the upcoming halving. There are also investors that predict a slow rebound for BTC the coming year, with surges to ensue post-2020.
One of the most anticipated developments for Bitcoin is the Lightning Network update.
The implementation will bring more stability to the network, which will produce more demands and growth.
2020 will bring…
Click to continue reading on its source location…
Source: https://thebitcoinnews.com/cryptocurrency-predictions-for-2020-what-should-we-expect/