Bitcoin Price Analysis (BTC/USD)
On an hourly chart, the bulls have dominated the market of BTC/USD pair.  The 7 day MA was seen gravitating above the 21 day MA that signaled an increase in bullish pressure.  The top cryptocurrency has slightly gained by 0.17%, having escalated from $10731.71 to $10750.00.
Apparently, a bullish engulfing candle started the session that shifted the price up to a high of $10737.38.  A medium-term period of consolidation also followed between $10671.09 and $10741.42 level. The pair's price later fluctuated upwards before a decline down to the current price of $10750.00.
The RSI indicator that moved from the overbought zone as at 23:00 to a low of 54 that signaled an increase in sellouts also reflected the dip.  Notably, the bulls have currently lost the market dominance to the bears due to a decrease in investor's sentiments.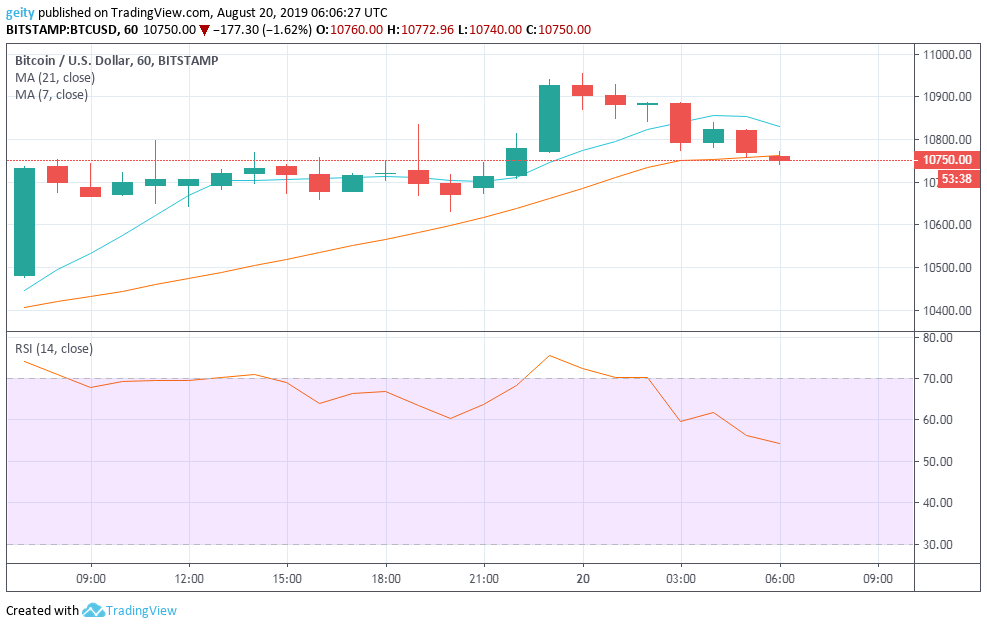 Bitcoin Price Prediction (BTC/USD)
The 7 day MA is still above the 21 day MA that signal a further uptrend, a break near $11000.00 is likely.  However, a breakout…
Click to continue reading on its source location…
Source: https://themerkle.com/bitcoin-tron-and-litecoin-price-prediction-and-analysis-for-august-21st-btc-trx-and-ltc/