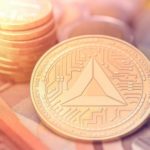 We will be taking into account historical prices, market sentiment, and project development, to try and project a BAT price prediction for January 2020.
BAT Overview
Basic Attention Token (BAT) is an ERC-20 based token, created to be used as a utility token on the blockchain network of the Brave Browser. It can be used to pay the website expenses incurred by Brave functions, such as advertisement filtering and data protection.
The BAT token and the Brave browser were developed by JavaScript creator and Mozilla founder, Brendan Eich, in order to bring more privacy to internet browsing. In this unique internet browser ecosystem, the token has the role of encouraging digital advertising and "attention-based services".
BAT is currently ranked as 31st with a market cap of $311,155,613. There have been $49,940,478 worth of BAT traded in the last 24 hours. 1.421.667.363 BAT coins are in circulation out of a total of 1.500.000.000 BAT.
Basic Attention Token (BAT) Price Prediction: Analysis
BAT debuted January at $0.181816, seemingly…
Click to continue reading on its source location…
Source: https://thebitcoinnews.com/basic-attention-token-bat-price-prediction-and-analysis-in-january-2020/