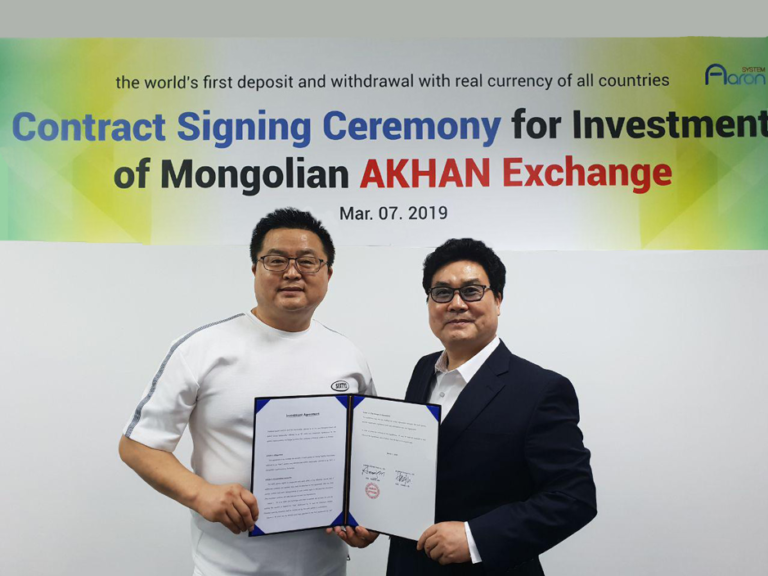 Launching the world's first Exchange that deposit and withdrawal of all countries' FIAT currencies are possible!
On March 7, 2019, Aaron System announced that it has signed an investment contract in Ho Chi Minh City, Vietnam to establish and operate the AKHAN Exchange in Mongolia, the world's first Exchange making all FIAT currencies' deposit and withdrawal in the world possible.
The newly established AKHAN Exchange consists of Tugric (TG) Market in Mongolian local currency, BTC Market, ETH Market, and TabiPay market. And they are also planning for projects' lineup such as Crypto Mining, ICO listing, Community, Incubating, ICO Fund, Blockchain Building, Blockchain contents, Blockchain commerce, Blockchain game and so on for the future development of Blockchain ecosystem.
The AKHAN Exchange is the first project among them and has three distinct features from other Exchanges.
First, AKHAN exchange is the world's first Exchange that is possible for deposit and withdrawal of all countries' FIAT currencies in the…
Click to continue reading on its source location…
Source: https://thebitcoinnews.com/aaron-system-in-thailand-enters-into-mongolian-cryptocurrency-exchange-market-with-ubwave-in-mongolia/