From the Rarible blog.
13 days. 13 drops. Countless opportunities to secure great NFT art.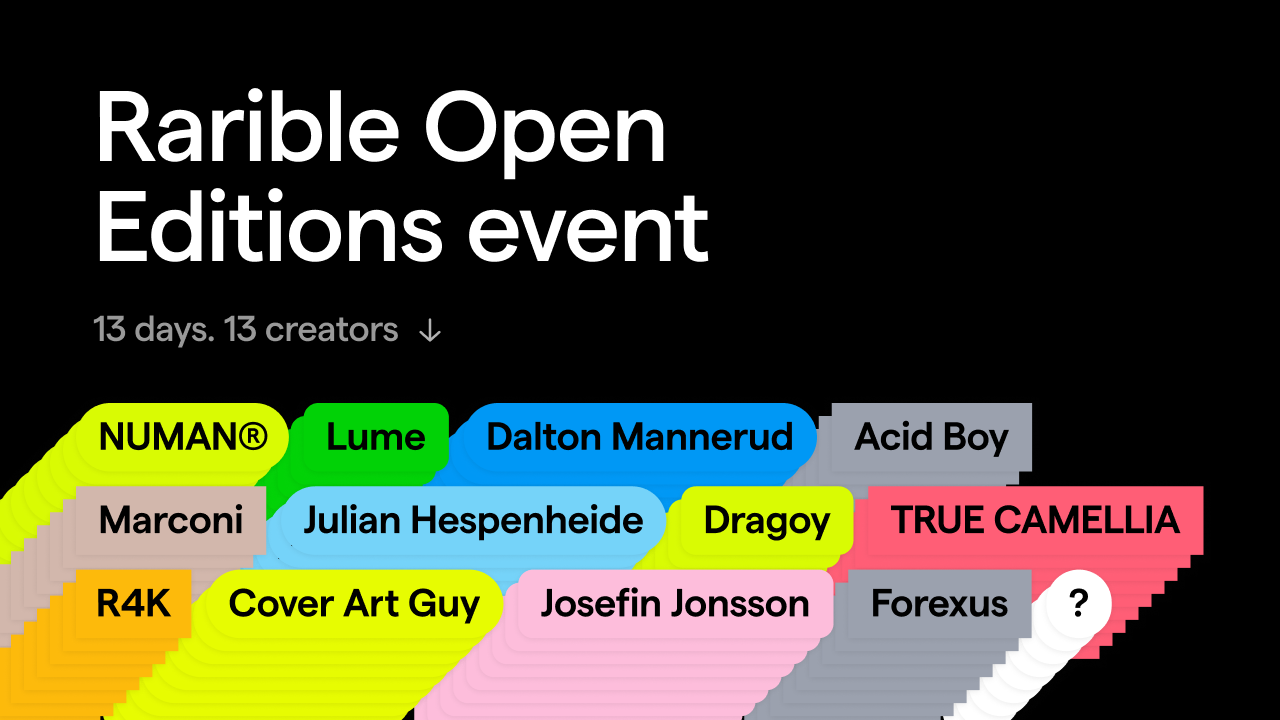 🚅

TL;DR:
• Rarible is launching an OpenEdition festival featuring 13 consecutive drops
• It starts on Tuesday, May 2
• Secure one or more drops to be eligible for a special surprise 😉


Following your favorite NFT artists on Twitter can be bittersweet: You love seeing their artwork and read what they write about it.
But when artists get popular, two things happen:
Fewer collectors want to sell
Demand drives up prices
This makes it hard to buy your favorite artist's work. Whether it's in auctions or on secondary, the NFTs quickly cost more than you'd like to pay for an art piece.

But a recent phenomenon makes high-level artwork from popular artists far more accessible: Open editions!
What are Open Editions?
Open editions are basically the opposite of a 1/1 mint. In an open edition, the number of mints is unlimited, but the timeframe is. This means an artist will open the mint for a certain art piece or collection for 24 hours for the same price—typically quite low.
The most popular one recently were Jack Butcher's Checks and Opepen, which both led to tens of thousands of mints. Both mints were super cheap compared to Jack Butcher's more scarce work—which made his work more accessible for more of his fans.
That's why open editions are a great medium for both established and emerging artists.
When does the festival start?
It starts on Tuesday, May 2 and lasts 13 consecutive days. It will feature 13 diverse artists ranging from up-and-coming to the well-known.
The concept is super simple: each drop is a 24-hour open edition, and you'll have the chance to mint amazing artwork at a low price.
The first in the lineup is Numan, a UK-based creator who will be dropping a free mint.
After 13 days, a special surprise will be waiting for you if you mint at least one of the previous editions… We can't say much more yet 😉
Where will it be happening?
Right on the Rarible's homepage, so you won't miss it!
Also, make sure to follow us on Twitter to stay up to date and mint the open editions as soon as they launch!
The article above came directly from the Rarible blog, found on https://rarible.com/blog/